5 Tips For Promoting Your Life Science Brand On LinkedIn
How to get your business noticed on the world's largest professional network.
Long gone are the days when LinkedIn was just a platform for sharing your CV or applying for jobs. It's now the world's largest professional network – with 15 times more content impressions than job postings. 
LinkedIn is the perfect platform to share thought leadership articles and industry news, make connections, build relationships and generate new business leads. In fact, LinkedIn now drives 80% of all B2B leads.
If you're running a life science business, it's also the most effective platform for raising your profile and getting in front of new customers. LinkedIn is a popular hang-out for scientists, researchers, SME owners and start-up entrepreneurs to share their ideas and insights. In fact, science is in the top three of all topics engaging LinkedIn members.
But how can you tap into these opportunities? In this blog, we'll be taking you through our top tips for building your life science brand on LinkedIn.
Create a standout profile for your life science business
Through a company page, you can tell people your business story and what you offer. But first, your profile needs to create the right impression and draw in your reader.
So, add a compelling tag line, which is the short description at the top of your company profile. This is your elevator pitch. The tag line is limited to 120 characters so it needs to be short and punchy. You can add more detail (including your website address) in the 'About' section – showcasing your expertise and how you can help customers. 
Your tag line should be accompanied by an eye-catching, professional header image. For a research-based business, you might choose a close-up image of a cell or a scientist at work in your lab. Your imagery should spark interest or curiosity. Always add your logo and complete all the company profile details – fully completed pages attract 30% more views.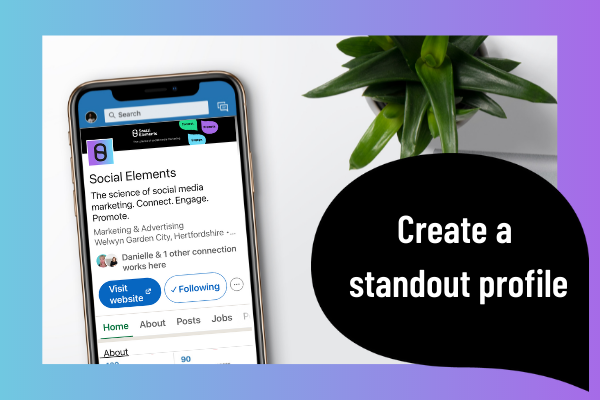 Focus on your target audience
Next, you need to think about your LinkedIn strategy. To do this, you must first understand your audience.
Do some research on LinkedIn. Search for your target customers and find out what topics and content they're commenting on and sharing. Do the same for your competitors – see who they're following and what they're saying. 
Search on hashtags related to your niche to find these conversations, using LinkedIn's search option. Look for specific hashtags such as #lifescience, #pharma, #vaccines and #drugdevelopment rather than just #science. 
Use this research to inform your content strategy and plan your content. This should be a mix of curated content (external articles and news) and created content of your own. 
Share high-quality content that is relevant to your customers and your business. So, if you produce antiviral products, you could post about current trends and emerging developments. Or, if you're working for a research company, why not ask your Head of Research and Innovation to share a regular blog on LinkedIn?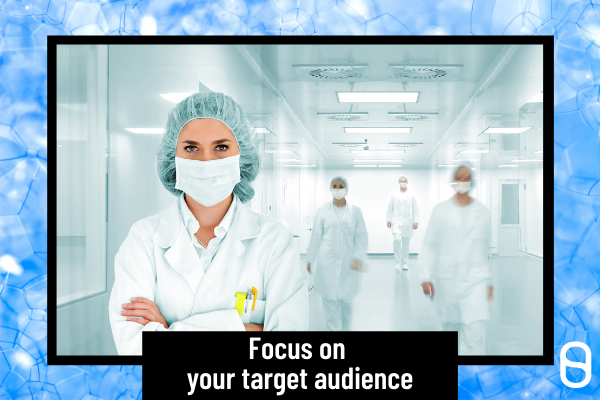 LinkedIn has more than 260 million monthly users but only 1% share posts – which provides huge opportunities to raise your profile.
Consistency is key on LinkedIn. So, if you decide to post four times a week, make sure you post consistently at the same time and on the same days each week. This will help you to build recognition about your life science brand.
As a rule, post on LinkedIn on weekdays during office hours. The exact timings will depend on your specific niche. Test out which posts get the highest engagement. 
Get your employees on board
Your employees and colleagues are often the best brand advocates for your life science business, helping to extend your reach on LinkedIn. On average, employees have ten times more first-degree connections on LinkedIn than a company has followers. So, ask your employees, including your directors, to share your posts. This will enable you to reach a wider audience and amplify your message. You can use the 'notify employees' button (at the top of a published post) to send an alert every time you've posted on LinkedIn. 
Ideally, your employees should share your post immediately after it's been published. In the first hour, LinkedIn pushes your content to a small sample of your audience to 'test the water'. If the post proves popular, it will then get pushed out more widely.
Engage with your audience on LinkedIn. Don't just 'post and ghost'. Keep an eye on your feed and check back for any comments. 
Conversations are key to building relationships on LinkedIn, just as they are in real life. Reply to comments immediately – don't leave it until the following day when the conversation has moved on. Thank your readers for their insights.
The LinkedIn algorithm, which governs how many people see your posts, loves engagement (likes, replies and comments). If people start to engage, your post will be shown to more people, creating a ripple effect.
Show a genuine interest in your audience – this is not the place for a hard sell. It's fine to bring your business into the conversation but do so in a subtle way. You don't want to scare off prospective customers. Building authentic relationships should be at the heart of your strategy. People buy from people, after all.
Follow these top tips and you'll have all the fundamentals in place for building a strong presence for your life science brand on LinkedIn.
But, if you need any further help or advice on LinkedIn, Social Elements offers one-to-one training – all virtual! Please get in touch by email: lisa@socialelements.co.uk